Courgette and broad bean risotto with basil pesto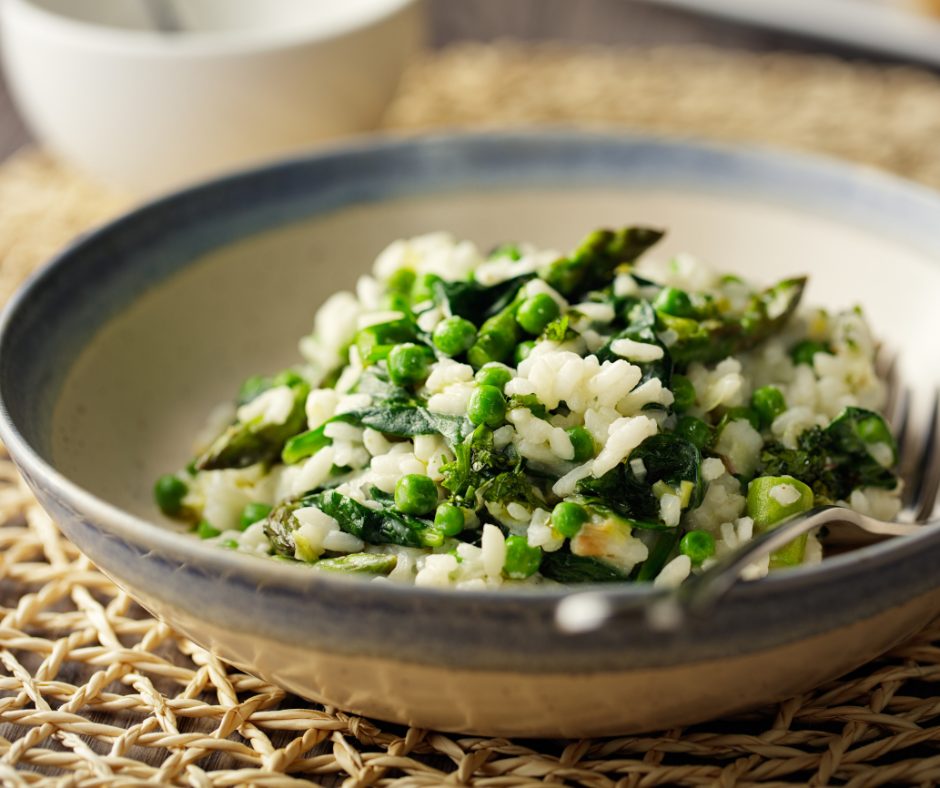 Ingredients
· 3 tbsp olive oil
· 1 tsp butter
· 2 medium courgettes – cut into 1-2cm dices.
· pinch of chilli flakes
· pinch of grated nutmeg
· 2 spring onions finely sliced.
· ½ lemon, zested
· 150g risotto rice
· 75ml dry white wine
· 750g warm vegetable or chicken stock
· 80g broad beans, blanched and peeled.
· 20g parmesan grated, plus extra to serve.
For the pesto
· 1 garlic clove
· 1 tbsp toasted pine nuts
· large handful of basil leaves
· handful of mint leaves
· 1 tbsp olive oil
· 1 tbsp grated parmesan or vegetarian alternative
Instructions
· To make the pesto, add all the ingredients into a mixer and blend until a smooth paste.
· Heat the oil and butter in a large non-stick frying pan over a medium heat. Add the courgettes, sprinkle in the chilli flakes and nutmeg, and season with salt and pepper.
· Fry for 3-5 mins until the courgettes are golden and softened. Add the spring onions and lemon zest.
· Next, add in the rice and stir.
· Pour in the wine, then cook for a couple of minutes until it's mostly evaporated.
· Add a ladleful of the stock and stir for a few minutes until it's absorbed. Continue adding until all the stock is absorbed.
· Stir in the blanched broad beans and warm through for 2 mins. Remove from the heat and stir through the parmesan. Allow to sit for about 5 mins, then swirl through half of the pesto.
· Divide the risotto between bowls and scatter with extra parmesan, and another spoonful of the pesto.